An Address is to a Location as a Social Security Number is to a Person
June 3, 2021
Utility Stakeholder Teams: A Collaborative Group Committed to Raising the Bar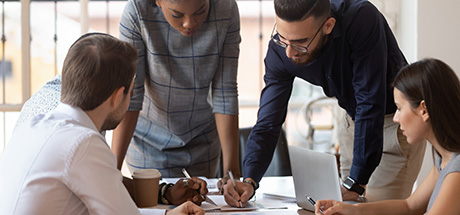 Imagine you are responding to a water main break in the middle of the night and you need to quickly identify the water valves to turn off. How easy is that? Can you rely on any departmental data?
In this example, high quality utility data would save the workers responding to this incident a lot of time and hassle. So while the quality of your utility data is important, it can also leave many municipalities wondering what they can do to improve it. Having great utility data increases stakeholder confidence, which, in turn allows for quick decision making in emergency situations and leads to better long term strategic planning about their assets. Partnering with communities, the GIS Consortium has proactively worked to solve this problem by formalizing utility stakeholder teams.
What is a Utility Stakeholder Team?
A Utility Stakeholder Team is an authoritative team responsible for the verification of local government data and processes specific to utilities. Each member is committed to increasing the data quality of each utility system and engaging in more collaborative efforts to reach a common goal. These teams can be focused on making decisions for one specific utility system or they can focus on decision making for multiple utility systems at once.
Identifying the Problem
In early 2017, Mundelein was losing confidence in the accuracy of their utility data, frustrated that it was becoming more of an irritation than an easy solution to day-to-day workflows. The inaccuracy in utility data was easy to see as asbuilt drawings – some almost a year old – were starting to pile up due to never being entered in the system. In addition, small corrections were being ignored or not communicated, and the staff was beginning to rely more on institutional knowledge and less on GIS or paper maps. This can be a dangerous proposition with early retirements or staff turnovers, and for Mundelein, it was becoming unworkable and something needed to be done.
Working Together to Create a Resolution
To combat this problem, the GIS Specialist in Mundelein scheduled a meeting to bring together each manager from the Water, Wastewater, and Streets divisions within Public Works. During the meeting they discussed what was working and what was not working and aimed to find a better way to get everyone on the same page.
To address data quality, the entire department committed to giving the GIS Specialist dedicated time in the office every day to enter project-based and ad-hoc corrections to the utilities. In addition, leaders in Public Works agreed to help prioritize the entry of large project-based updates that were missing, as well as review all the entries in GIS as they were completed. They designated a staff member for each utility system to serve as the point person for the GIS Specialist and field verify the asset, if needed. This was all documented and provided to each team member to ensure the process would be sustainable. They also created a standard for communication so the whole team knows what is being worked on and when. Finally, they continued to meet on an ad-hoc basis to search for efficiencies and refine the processes they have in place.
The Payout Will Be Positive
Make no mistake this has been, and will continue to be, a multi-year process. While the current approach is working, the team will continue to evolve, identify more efficiencies, and enhance communication strategies. Because of this collaboration, the staff in Mundelein uncovered the following in the past year:
A buried manhole that the sewer division was able to expose and raise to grade during a construction project
Correct the spatial location of all water utilities using satellite imagery from a road patch that was not located on a previous construction drawing before the road was reconstructed
Quickly verify the installation of a water main that was completely different from what was on the completed as built
The Future is Bright
Having a utility stakeholder team in place is just the foundation for elevating the confidence and utility data accuracy. In Mundelein they are continuing to build and innovate their procedures by leveraging additional technology such as Asset Management or others. This type of progress is infectious and is continuing to spread to all facets of the community.
Take the Lead   
Discover, innovate, and collaborate with the GIS Consortium today! Contact your community's GIS Analyst to discuss project opportunities, Consortium services, and GIS.